What Chuck Jones and others thought about Lola?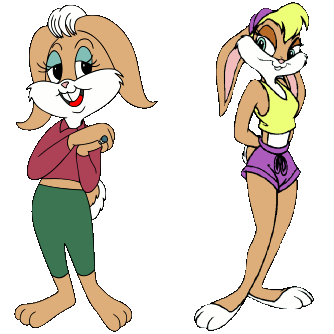 In 1996, a full-length movie titled "Space Jam" was released. In this film there appeared for the first time a "new version of Honey", named Lola Bunny. However, her appearance caused many controversies among fans who divided into three groups:
- those who love Honey and hate Lola,
- those who love Lola and hate Honey,
- those who accept both characters.
All the controversies have been described in
chapter 5
and
chapter 6
of Honey Bunny's biography.
We already know fans' opinions. But what animators who created earlier animated shorts with Looney Tunes thought about Lola? They weren't very favorable to her, so to say...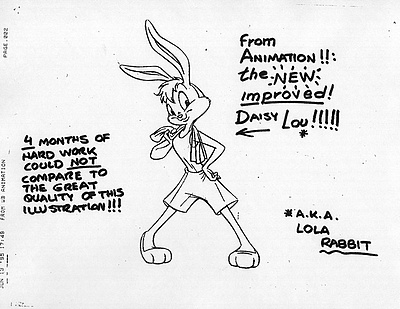 An early version of Lola Rabbit, circa 1995-1996
But let's start from the very beginning. In fact, controversies arose just when artists in WB started working on a visual appearance of Bugs Bunny's female counterpart whom they wanted to put in the film. They rejected Honey Bunny in version from 1990's (when she looked much like Bugs' twin sister) and started working on a new character. After "four months of hard work" the character was ready. There are rumors, however, that Lola Rabbit - as she was named at that time - made big problems to Warner Bros. because of her visual appearance resembling a 13-years old girl which caused reaction from McDonald's (they signed a contract with Warner Bros. on selling Happy Meals with characters from "Space Jam"). McDonald's officers are believed to state that pairing such character with an adult Bugs Bunny would look like pairing little child with a pedophile. They are believed to say that unless Warner Bros. change appearance of Lola Rabbit, they will break the contract (in fact, it was the last time McDonald's promoted a non-Disney movie because some time after "Space Jam" was released they signed an exclusive contract with Disney). Lola Rabbit needed to be re-designed. Animators probably decided to return to Honey Bunny and modify a yellow comic version of her. That's how Lola Bunny known from "Space Jam" was created.
Chuck Jones
Chuck Jones, a famous animator and director of many well-known animated Looney Tunes shorts, helped (or rather tried to help) artists working on "Space Jam". All his suggestions have been rejected, however.
In one of later interviews he stated that, in his opinion, Lola Bunny is a character with no future, she's a totally worthless character with no personality (in fact, her personality in "Space Jam" wasn't much developed). Jones considered Lola a nightmare of furvert fetishist. He didn't like Lola and "Space Jam" at all. His opinion was shared by Maurice Noble, an artist who created visual backgrounds for many animated shorts directed by Jones.
The introduction of Lola Bunny into a movie was perceived as a total rejection of Jones' tradition and attempt to deny the long-discussed polisexuality of Bugs Bunny. Seeing Lola for the first time, Bugs changes his behavior and starts to act like a twelve-years-old macho that flexes his muscles and tries to bring Lola's attention to him. After Lola shows her basketball abilities we see an incorrectly recontextualized gag borrowed from Tex Avery's playbook: to show his lust for the girl bunny, Bugs Bunny floats up in the air and crashes to the floor like a Wolf in the "Red Hot Riding Hood" cartoons.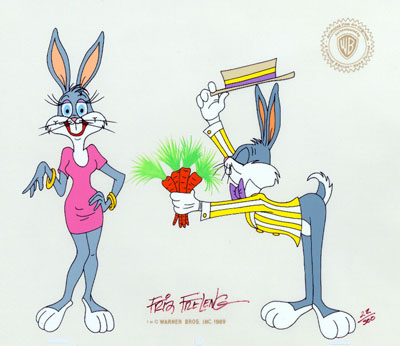 Honey Bunny and Bugs Bunny portrayed in a sericel by Friz Freleng, released in 1989
Fritz Freleng
Although another of famous animators working on animated shorts with Bugs Bunny and his friends, Isadore Freleng, didn't get to see the "Space Jam" (Freleng died in 1994), we know his opinion about pairing Bugs Bunny with women. In one of interviews he gave in middle 1980's, when asked about why Bugs Bunny doesn't have a girlfriend, he stated that Bugs "wouldn't be the same troublemaker".
In the meantime, however, Freleng created a few sericels in which we see Bugs Bunny showing his emotions to Honey Bunny. That's why we may assume that Freleng was speaking about a girl that would change Bugs Bunny's personality or neutralize or "domesticate" him. If Bugs Bunny appearing along with female counterpart would remain the same crazy and intriguing, then there would be no problem.