Honey Bunny's Biography - part 6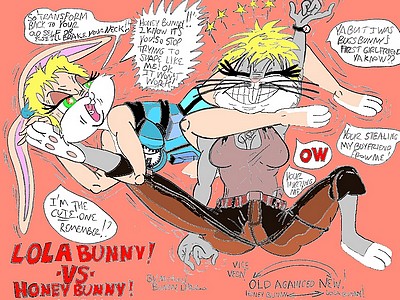 An early example of a picture depicting Honey and Lola fighting (2001)
Looney Tunes fans were divided into three groups, fans of Honey who don't accept Lola, fans of Lola who don't tolerate Honey, and those who accept both characters. Some of them express their feelings in artistic but quite brutal way, portraying both fembunnies as obstinately fighting enemies. What's interesting is that in practically all works of such kind honey is depicted as visually similar to Bugs. No picture shows Lola fighting with yellow comic version of Honey Bunny.
Lola's introduction caused Honey's popularity to decrease for some time. For few months it was Lola who appeared in merchandise, however, she appeared only in products related to "Space Jam". Soon her popularity started to fall and again Honey Bunny took her place.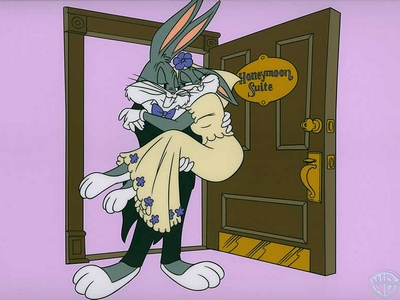 A Little Slice of Heaven, 1999
Once again the model sheet for our fembunny changed. Now Honey has somewhat shorter teeth and smaller and more delicate palms and feet. It is especially seen on a sericel "A Little Slice of Heaven" issued in 1999, showing Honey and Bugs just married. This sericel was a part of a larger series of products relating to marriage, including mugs, glasses, figurines and water balls depicting marriage of our enamored bunnies.
It seems that the visual appearance of Honey Bunny in this sericel is based on Lola's model sheet as, apart from clothes, both characters differ only in color of fur. It is more probable, however, that in this collectible Honey Bunny has been depicted in a version which was to be used in "Space Jam".
Although Lola's comic debut was in 1996 in a comic adaptation of "Space Jam", it was just in 2000 when she started regular appearing in comic books. In this time Honey Bunny was still present in merchandise and for long time both characters coexisted. And they coexisted peacefully.