The Forgotten Toons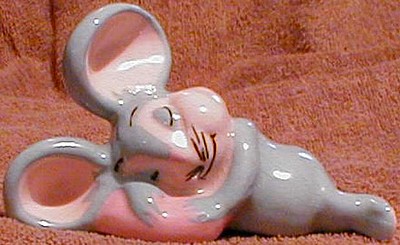 Rosebud figurine from middle 1940's
Rosebud
The strangest character is Rosebud, a small field mouse with big ears. It is the most obscure character that had Looney Tunes-related merchandise based on. Rosebud appeared in two animated shorts, 'Farm Frolics' (1941) and 'Horton Hatches the Egg' (1942). In middle 1940's Shaw issued a collection of ceramic figurines with Looney Tunes characters among which there were Elmer J. Fudd, Porky Pig, Bugs Bunny, Petunia Pig, Sniffles and Rosebud.
An interesting thing is that, but for this collection, we wouldn't know a name of this mouse as it doesn't appear in any movie, it is just printed on a box of its' ceramic figurine.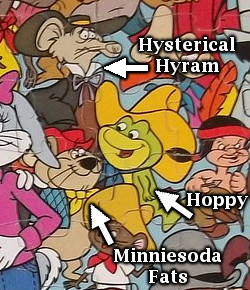 Hoppy, Hysterical Hyram and Minniesoda Fats
Three mysterious guests
In 1981 a puzzle showing 105 Looney Tunes characters has been issued. It would be just an ordinary puzzle if not the fact that among characters we see three mysterious guests that never appeared anywhere before (which is even proved by the fact that even Jerry Beck, animation historian, knows nothing about them!). According to the information given on the box these characters have the names of Hysterical Hyram, Hoppy and Minniesoda Fats.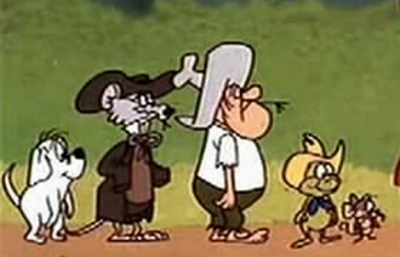 Hoppy and Hysterical Hyram appeared in a compilation movie 'Daffy Duck's Fantastic Island' along with two other unidentified characters
Hoppy and Hyram appeared only once in a compilation movie 'Daffy Duck's Fantastic Island' in which in one scene they queue to make their dreams come true with the help of the magic well. Along with them there are two other unidentified characters, a white dog and an unknown mouse with a hat.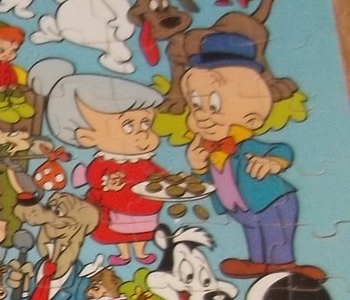 Mr and Mrs Elmer Fudd
Mrs Elmer Fudd
Did you know Elmer Fudd has a wife? In the abovementioned puzzle we also see Mrs Elmer Fudd (original name, isn't it?). On a silver screen she appeared only once in animated short 'Don't axe me' from 1958. Just like her husband, Mrs Elmer Fudd has a speech defect and pronounces 'w' instead of 'r'.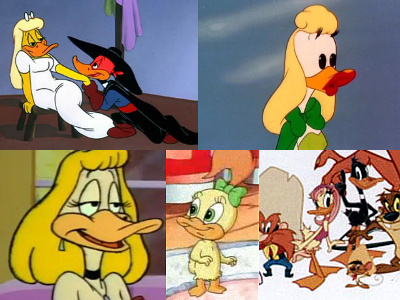 Different faces of Melissa Duck. Starting from top left the screenshots come from: "Scarlett Pumpernickel" (1950), "Muscle Tussle" (1953), "The Duxorcist" (1987), "Baby Looney Tunes" (2002-2005), "The Looney Tunes Show" (planned visual appearance of a character that has later been redesigned and renamed Tina Russo Duck)
Melissa Duck
You may ask why I'm placing Daffy Duck's girlfriend in this list. I'm doing it just because she had similar situation to Honey Bunny's, that is, Melissa has been updated. They changed her visual appearance as well as name and in now-aired 'The Looney Tunes Show' she appears as Tina Russo Duck. Although creators of this series state that Tina Russo is a 'brand new character invented by them' (a similar statement made Robert Guthrie about Lola Bunny whom he made model sheets for), however, a clear similarity to Melissa Duck can be seen. Moreover, first screenshots from 'The Looney Tunes Show' show Daffy Duck accompanied by Melissa.
An interesting fact is that although Melissa appeared along with Daffy Duck in few cartoons, she wasn't as popular as Honey Bunny was. Very little merchandise with Melissa Duck was produced, and in theater shows she didn't appear at all. The most recent appearance Melissa Duck made in 'Baby Looney Tunes'.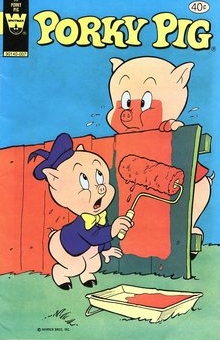 Cicero Pig
Cicero Pig
Honey Bunny isn't the only Looney Tunes character that never appeared in cartoons. A similar fate has been shared by Cicero Pig. Although some 'beta version' of him we see in animated shorts 'Porky's naughty nephew' (1938) and 'Porky's picnic' (1939), both directed by Bob Clampett, but Pinky Pig who appears in them is generally considered different character; a similar situation is with Algernon Pig that later appeared in early 'Looney Tunes and Merrie Melodies' comic books and looked similar to Cicero Pig.
Cicero Pig first appeared in middle 1940's, originally as a cousin of Petunia Pig (who nowadays is rarely seen in comic stories, although they created a model sheet of her for 'The Looney Tunes Show' it is unlikely that she will made an appearance in this series), later changed to Porky's nephew. Cicero Pig shares features of both Pinky and Algernon and in fact he is a hybrid of both characters.
Cicero Pig's career lasted to some early 1990's when Warner Bros. decided to make Looney Tunes characters' visual appearance in merchandise closer to this from animation. The last time we see Cicero Pig in a small book titled 'Bugs Bunny and his sunburned ears' issued in 1990. Since then, our small piglet never appeared again, neither in comics nor in merchandise.