Honey Bunny's Biography - part 7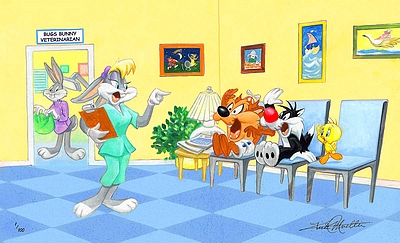 You're next, an artwork by Kirk Mueller
After 2000
When Warner Bros. Studio Stores have been closed down in 2002 Honey Bunny almost completely disappeared from comic books and most of products and Lola Bunny took over her place. Essentially, Lola Bunny fulfills the same role as Honey Bunny - her irregular appearances in comic stories mainly aim just to fill up the fable and it is very rare that she initiates the chain of events.
It doesn't mean, however, that Honey Bunny disappeared completely. Though rarely, she still appears in sericels and other collectibles. Naturally, she appears along with Bugs.
Once again, however, Hone's look changed. Now she's visually closer to Lola as she has blonde hair and blue eyelids. Some of the most recent collectibles featuring Honey Bunny are paintings by Kirk Mueller, an artist who works for Warner Bros.
No one knows what the future of Honey Bunny is. Now Lola Bunny is at her place. And this situation will last... until artists working for Warner Bros. remind about old good classic Honey.