Honey Bunny's Biography - part 5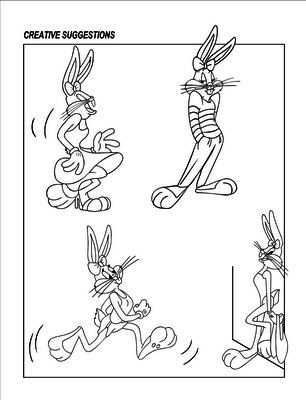 A model sheet for Honey Bunny from 1990
1990's
In early 1990's there appeared another official model sheet for Honey Bunny. In this version she is visually much closer to Bugs, however, she has got more feminine and delicate shapes as well.
1990's is a time when Honey Bunny debuted in another entertainment area of life, that is, in games. She first appeared in "Bugs Bunny Crazy Castle" issued by Kemco. Honey appears in two first versions of this game, for NES and GameBoy (in two later ones there appears Lola Bunny). In this game we control Bugs Bunny whose task is to complete 60 stages of middle level of difficulty to free Honey Bunny who has been imprisoned in a tower by other characters from Looney Tunes. Honey Bunny also appeared in a pinball game "Bugs Bunny's Birthday" released in 1990 for Bugs Bunny's 50th Birthday.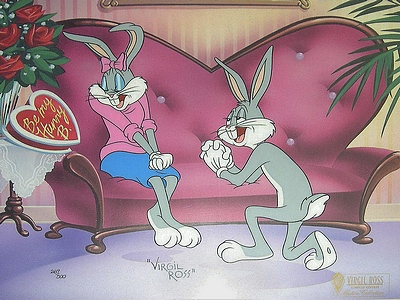 Will ya?, a limited edition sericel. The scene is taken directly from the animated short Hare Splitter (1948). Notice the misspelled name on the box of chocolates
To think that Warner Bros. didn't plan to put Honey Bunny in a movie would be a mistake. Such plans were made in middle 1990's when they started working on a full-length film with Looney Tunes characters. Of course, it was "Space Jam".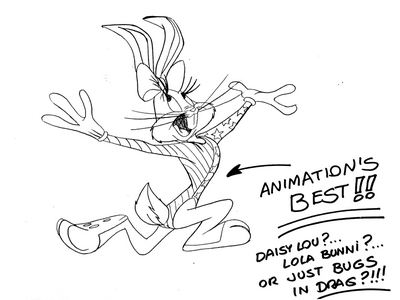 A proposed model sheet for Honey Bunny for Space Jam
In this movie Honey Bunny was planned to be Bugs Bunny's female counterpart and it is even proved by early sketches. On these sketches we see an athletic fembunny with a bow on her head, wearing a dress referring to the flag of the United States of America. However, an artist who prepared those sketches drew Honey in so unfortunate way that she looked like Bugs' twin sister (another artist even commented it saying "is it just Bugs in drag?"). They decided to change her visual appearance. Artists working on "Space Jam" probably decided to return to earlier yellow comic version of Honey Bunny and to modernize and update her.
It also seems that from the very beginning they planned to change her name as well. Among proposed new names there appeared Bunni Bunny, Lola Buni (it's not a mistake!), Lola Rabbit, and even Daisy Lou. Eventually this "newer version of Honey Bunny" has got the name of Lola Bunny.
Technically speaking, we should consider Lola and Honey the same character who has just been redesigned. The same thing happened to Melissa Duck, a Daffy Duck's girlfriend, who in now televised animated sitcom "The Looney Tunes Show" is called Tina Russo Duck.
The introduction of Lola Bunny caused some controversies. Some fans protested against her, pointing out that Bugs Bunny was earlier in love with Honey (though those protests were probably an effect of lack of knowledge about how Lola was created). Other fans wondered about some details of Lola's appearance as she has got quite huge breasts and, so to say, a sexy bottom. Some fans came to the conclusion that Warner Bros. introduced into the world of Looney Tunes a character whose role was to look like... a symbol of sex.