Honey Bunny's Biography - part 1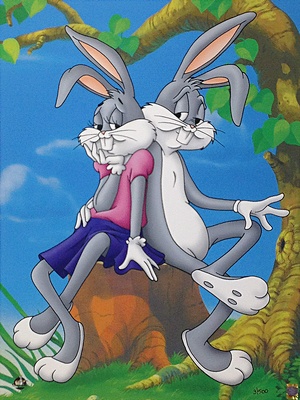 Bugs Bunny and Honey Bunny, a limited edition sericel based on a sketch by Robert McKimson, released in 1993
Before we start, let's make a short description of our fembunny. So...
Name: Honey Bunny
In other languages: Króliczka Honey (Polish translation for Honey Bunny), Novia Bugs ("a girlfriend of Bugs" in Spanish), Bunnita (in Italian version)
Height: 3 feet, 4 1/2 inches
Weight: None of your business!
Honey Bunny wasn't very lucky as she had been created too late to appear in animation along with Bugs Bunny (the Warner Bros. animation unit was already closed for few years). Honey Bunny's career was mainly in comic books, merchandise and in theaters in amusement parks where she had many successes.
Her first comic stories showed her as somewhat giddy teenager, however, over years, when her appearance was changing, her personality matured to such an extent that eventually she became the sanest member of the Looney Tunes family (which is interesting as Honey Bunny is the only Looney Tunes character to NEVER appear in animation!). Her sensible nature provided perfect counterbalance for mischievous personality of Bugs Bunny.
Honey has many talents. She's graceful. She loves sports, loves to dance, sing and play musical instruments.
This is how we can describe in a few words this unusual character which in 1996 for the aims of "Space Jam" for some reasons had been changed into today's Lola Bunny. But let's start from the very beginning.