Honey Bunny's Biography - part 3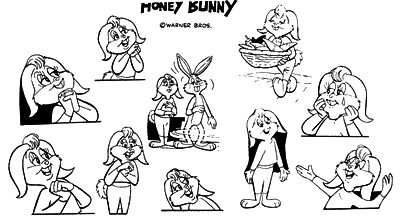 A model sheet for Honey Bunny from 1966
Official debut
In the early 1960's artists working on comic stories featuring Looney Tunes characters reminded about Honey Bunny and decided to introduce her permanently into the world of Bugs Bunny and his friends.
However, a problem arose because in her hitherto existing form Honey Bunny looked too outdated. Such way of presenting female characters was characteristic for cartoons and comic books from 1940's and early 1950's. That's why Honey had to be changed, modernized, "updated".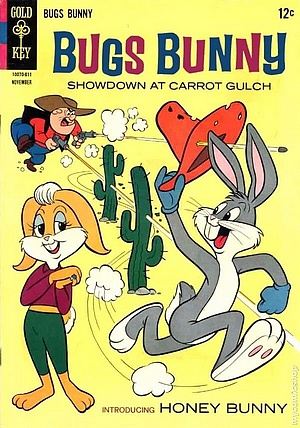 Cover of Bugs Bunny Comic Book No. 108 with a debut comic story of Honey Bunny
A "new" Honey Bunny debuted in November 1966, in "Bugs Bunny Comic Book" No. 108. Apart from name and personality, everything has been changed, since then Honey was a yellow fembunny, dressed up with purple t-shirt and green tight shorts. A bow on her head has been replaced with blonde hair. Honey Bunny had floppy ears and small powder-puff tail. Through most time Honey's visual appearance wasn't changed, usually the only changes concerned different shades of color of her fur.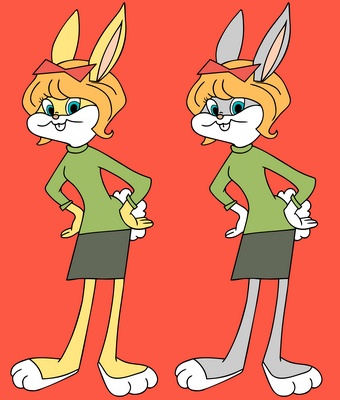 Two versions of a promotional model of Honey Bunny from 1966
However, along with comic model of Honey Bunny there appeared a promotional model sheet which looked quite different. In this version Honey has a short dark green skirt and light-green sweatshirt. She also has different haircut and a red bow on her head. Depending on artist's preferences, her fur was gray or yellow. Her tail is much larger and her pupils are surrounded by blue eyelids.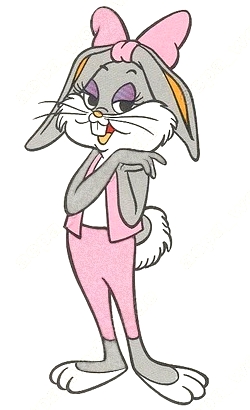 Another promotional model sheet of Honey Bunny
Sometimes there appeared a third version of Honey as well which looked much like her comic model, except from a bow instead of hair and gray fur instead of yellow one.
Let's return to a comic version of Honey Bunny. Her debut story was "Showdown at Carrot Gulch". Here, Honey is no longer Bugs's cousin but a great fan who met a TV star when he found himself in a wrong time in a wrong place. A moment earlier some thief robbed a local bank and tried to run away. A local sheriff misidentified Bugs with that robber and wanted to arrest him, however, Honey Bunny arrived, explained to sheriff who Bugs Bunny is and convinced him to let Bugs run after actual robber. Bugs captured that robber and put him into arrest which he was awarded for, taking over a function from sheriff who was going to retire. Honey and Bugs found common ground immediately and soon Honey became the head of Sheriff's Department for Carrots.
As it happens in relationships, Honey's relations with Bugs varied. Most times they were presented as a pair of lovers. It sometimes happened, however, that they were angry at each other, other times they were fighting like enemies. However, such situations were extremely rare. In most comic stories we see two lovers who are very engaged in their relationship and who helped each other in hard moments.
Honey's appearances in comic stories were quite irregular. Usually her appearances aimed to fulfill the fable. However, it sometimes happened that Honey initiated a chain of events (a similar role is fulfilled by today's Lola Bunny, a "newer version of Honey Bunny"). For example, such situation occurred in a story titled "Two's a crowd" printed in "Bugs Bunny Comic Book" No. 150 from July 1973. In this story Honey searches for a candidate for wife for her widowed father Horatio Q. Bunny. However, candidate's arrival has unforeseen effects...