Honey Bunny's Biography - part 4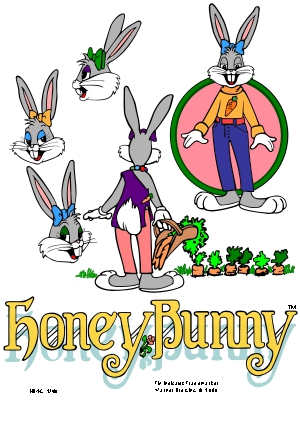 A model sheet for Honey Bunny from 1980
1980's
Through most time there existed two versions of Honey Bunny - comic one and promotional one. Both versions looked quite different. The same situation occurred in 1980's when Warner Bros. sent a new Looney Tunes model sheets to their licensees. This time Honey Bunny was visually closer to her boyfriend Bugs Bunny. Her fur was gray and blonde hair on her head has been replaced with a bow. Depending on artists' preferences, Honey was depicted with standing or floppy ears. Sometimes in pictures Honey Bunny, Bugs Bunny and Clyde Rabbit (Bugs' nephew who appears in few animated shorts) were depicted as a family.
Although there appeared a new official model sheet, in comic stories Honey Bunny remained yellow. Such situation lasted until middle 1980's when comic books series ended up because of falling sales.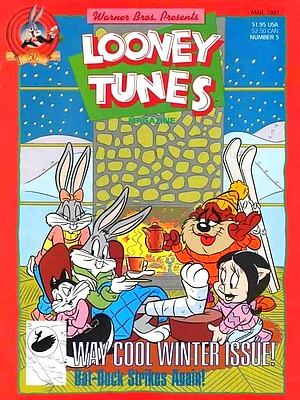 Honey Bunny's last appearance in comics on a cover of Looney Tunes Magazine, No. 2/1991
Since then, in comic books Honey appeared only once on a cover of "Looney Tunes Magazine" No. 2/1991, however, this time Honey was depicted in a way that she was visually closer to Bugs.
Honey's visual appearance was treated very freely by Chuck Jones, great animator and creator of most Looney Tunes animated shorts, in his series of paintings relating to the theme of marriage. In 1981 Chuck Jones married Marian Dern and he expressed his happiness in artistic way, creating a series of works presenting Honey and Bugs' marriage. In every of these pictures Honey has different color of fur, from gray, through yellow, ending on pink.
An interesting fact is that a fembunny we see in these pictures remains unnamed and just referred to as "bride", however, it is known that it is Honey Bunny. Moreover, this character much resembles later Babs Bunny from Tiny Toons. It is quite possible that her visual appearance was inspired by Honey Bunny from Chuck Jones' paintings.
Late 1970's and early 1980's is also a time of Honey's debut on the stage. She appeared in shows presented in many amusement parks in US, including Great America Amusement Park and Six Flags Amusement Parks. Honey's costumes have been prepared according to abovementioned model sheet issued in 1980's. On stage Honey was probably voiced by Desiree Goyette. On the Internet there available at least two videos in which Honey Bunny dances and sings along with Bugs Bunny and their friends from Looney Tunes gang.