Honey Bunny's Biography - part 2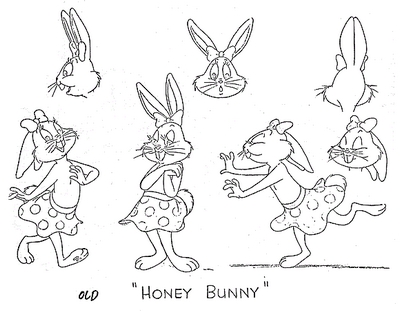 A model sheet for Honey Bunny from 1953
1953 - a "proto-Honey" era
Honey Bunny has been brought to life in 1953 by Robert McKimson, great director and animator, the same who made a model sheet for Bugs Bunny which was used for many years. Our fembunny first appears in a comic book titled "Bugs Bunny's Album". It was a series of comic books in which Bugs Bunny presented stories of his ancestors and relatives. Every comic story, with few exceptions, describes adventures of one bunny.
In one of these stories there appears Honey Bunny. When we meet her, she is a small white bunny who has a blue bow on her head and is dressed up with short blue dress with white spots. In this story Honey is Bugs' cousin.
In first few pages we learn quite a lot about her. She dreams about career of a famous African explorer hunting for elephants. Quite credulous, she gets her caught in a joke by Bugs who introduces her "into African world" and between elephants... at the back of a circus. However, there appears a man who helps Honey make her dreams come true and soon Honey travels to Africa, accompanied by Bugs. However, she quickly realizes that she aims too high...
In this version Honey appeared only once and didn't play important role. Until some point in time...